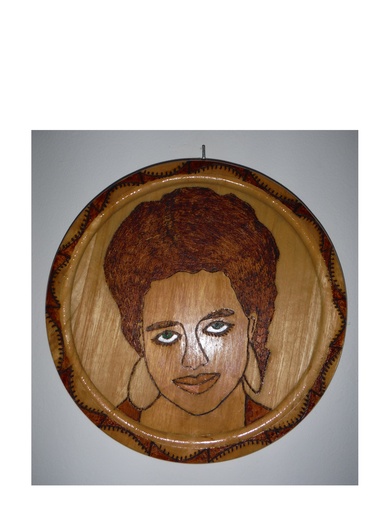 ​MY NAME IS MANOLA SINT JAGO AND ON THE 8TH. OF FEBRUARY OF 1967 I WAS BORN ON THE DUTCH CARIBBEAN ISLAND OF ARUBA. THE PEARL IN THE CARIBBEAN.
BECAUSE OF A CHRONIC DISEASE I'VE BEEN LIVING IN THE NETHERLANDS SINCE THE AGE OF 15. AT THE YOUNG AGE OF 3 I STARTED PAINTING AND DRAWING ALL THE WAY SITTING ON MY DADDYS LAP. AT THE AGE OF 6 TILL THE AGE 15 I'VE BEEN ENROLLED IN THE SCHOOL OF ART IN SAN NICOLAS, MY HOMETOWN ON THE ISLAND.
MY LOVING FATHER AND HERO WAS A VERY WELLKNOWN ARCHITECT ON THE ISLAND UNTILL HIS DEATH IN 1988. HIS NAME WAS AMBROCIO MOISES SINT JAGO OR JUST MOOI TO EVERYONE WHO LOVED HIM DEARLY. HE WAS MY INSPIRATOR, MY TEACHER AND BIGGEST FAN. HE TAUGHT ME SO MUCH ABOUT PAINTING AND DRAWING.
IN MY PAINTINGS I USE A VARIETY OF TECHNIQUES AND MATERIALS WHICH IS SOMETHING I LOVE TO EXPERIENCE WITH. THERE IS A LOT OF EMOTION AND BRIGHT COLOURS IN MY WORK. BEING ABLE TO DRAW AND PAINT HELPED ME THROUGH THE MOST DIFFICULT TIMES OF MY LIFE AND THE STRUGGLE WITH MY ILLNESS.
THROUGH MY WORK I FOUND A WAY TO DEAL WITH MY ILLNES AND TO MAKE MY LIFE WORTH LIVING.
JUST SITTING ALL DAY WATCHING THE CEILING OF A HOSPITAL BEDROOM OR IN MY OWN BEDROOM IN MY OWN HOME WAS NOT AN OPTION FOR ME. ABOUT TEN YEARS AGO I STARTED MAKING JEWELLERY AS WELL WHICH ADDED MUCH MORE FUN INTO MY LIFE. FOR MY JEWELLERY (ONE OF A KIND) I USE JUST EVERY SINGLE ITEM I COULD GET MY HANDS ON. MY INSPIRATION IS PEOPLE AND NATURE.
AFTER SURVIVING A BRAIN TUMOUR, TWO ARTIFICIAL HIPS AND A STROKE I EMBRACED LIFE AND FOUND MY WAY INTO ART. I FEEL AT EASE WHEN I'M BUSY MAKING MY ART. "BEING ILL ALL THE TIME IS FRUSTRATING, BUT BEING CREATIVE IS JUST SO AMAZING.
SINCE MAY OF THIS YEAR (2016) I'M A MEMBER OF "KUNSTCOLLECTIEF SAMENSTERK" (A GROUP OF ARTISTS WHERE EVERYONE IS ACCEPTED DESPITE THE ILLNESS THAT THEY HAVE) IN ALKMAAR.
ENJOY MY WEBSITE AND THANK YOU FOR YOUR TIME.